Send Feedback
If you encounter a problem when using the CommPortal BG Admin interface, or have a suggestion for an improvement, you can click on the Send Feedback link and submit a report to your service administrator.
Clicking on the Send Feedback link launches a pop-up.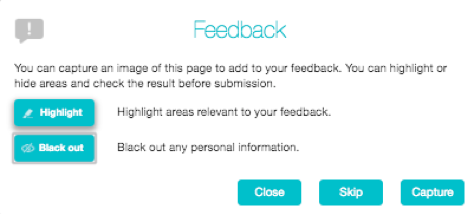 If you want to include a screenshot of the BG interface: Highlight particular areas of the screen by selecting Highlight, positioning the cross-hatch and then dragging – the area that will be included in the screenshot will be highlighted.
Use the Black out option to disguise any personal information
Click Capture.
If you do not want to include a screenshot, click Skip.
This launches a second screen, with the screenshot on the right (if you have taken one) and a box where you can add a description of the problem you have encountered or enhancement you would like to see.

Click Submit to send your feedback.