Pod Connect For Desktops: Updates
INFO: The latest version of Pod Connect for Desktop is V2.32.16

 

In the unlikely event that you have issues after installing the update it may be possible to roll back to the previous version. Please contact Service Provider for further information. 
Updating Pod Connect For Desktops is straight forward. When logging to Pod Connect for Desktop (MAC and Windows) it will automatically check for updates:
If an update is available you will see a pop up message shortly after logging in.
MAC OS:
Click on Install Update you also choose to Automatically download and install updates in the future.

Windows:
Click on Install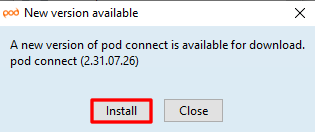 If you busy and are using Pod Connect for Desktop MAC OS click on Remind Me Later it will pop up again the next time you log in. 
| | |
| --- | --- |
| | INFO: We do not recommend that you skip versions, releases are thoroughly tested before general release. Updates may bring new features and security enhancements.  |
The update will now download
MAC OS:

Windows:
MAC OS:
Once the download has been completed you will see the following, click on Install and Relaunch:

Windows:
Windows users will need to click on Yes to confirm to close Pod Connect.

Your Pod Connect application will now close and the new version will be installed. 
| | |
| --- | --- |
| | INFO: Call history and messages will remain when Pod Connect opens. When Pod Connect launches again you may be asked to allow access to your camera, microphone and folders this is normal click on Allow. |
You have now updated Pod Connect to the latest version.
You can also manually check for updates by clicking Check for updates...
MAC OS:
Click on pod connect > Check for updates...
Windows:
Click on Help > Check for Updates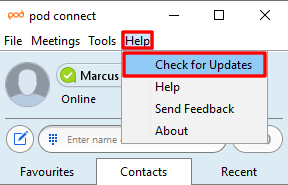 If an update is available, follow the above instructions to download and install the update.