Logging Into The CommPortal
Your Service Provider will have given you all the login details for your subscribers (users). If you have not received any login details please contact your Service Provider before continuing.
This will consist of:
| | |
| --- | --- |
| | TIP: If you have multiple users and you are managing the account passwords for your users then you complete the password change from one machine for all users. Just log out after completing the steps below for one user, then log in with the next user and repeat.  |
On a PC/Laptop or compatible mobile device, open a web browser to the following https://commportal.connectbetter.net
At the login screen enter the Phone Number and Password of the first user. Then click on Login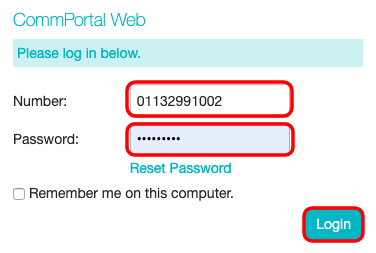 This will open the CommPortal Setup Wizard page, this will guide you through changing your CommPortal password, setting up a Voicemail PIN, recording your name and voicemail greeting.