Importing and Exporting Contacts
| | |
| --- | --- |
| | INFO: With the CommPortal contacts, these contacts will be sent to all registered devices for that subscriber. This will include the Pod Connect mobile and desktop applications |
Import Contact from CSV
Log into the CommPortal with your credentials, at top click on Contacts

Within the Contacts page you will see the following, click on Import.

In the Import Contacts popup window you will need to:
Choose the CSV file that you would like to Import
Select the Action when a Contact already exists.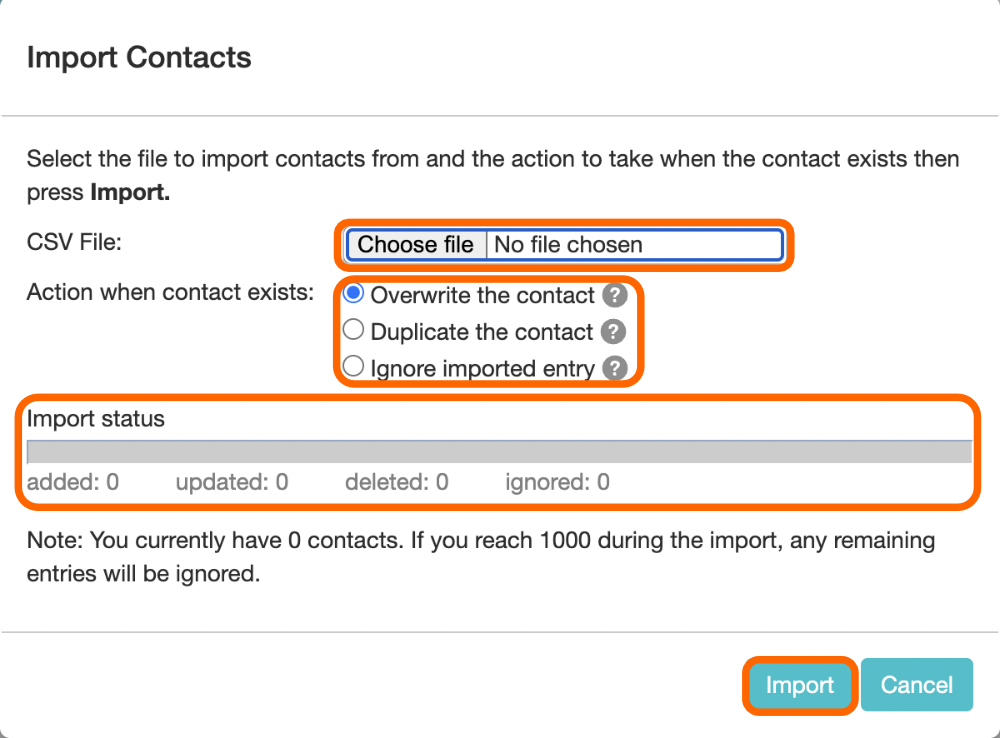 Click on Choose file and select the CSV file you would like to import, select the Action when contact exists and then click on Import.
Monitor the Import status as this will details of the contacts imported.
Once the Import has finished, you can either click on Confirm this add the contacts to your account, or click on Details, this is ideal if you have contacts in your list that have been ignored and will display a reason. After reviewing the Details click on Confirm. 
You can cancel the Import by clicking on Cancel.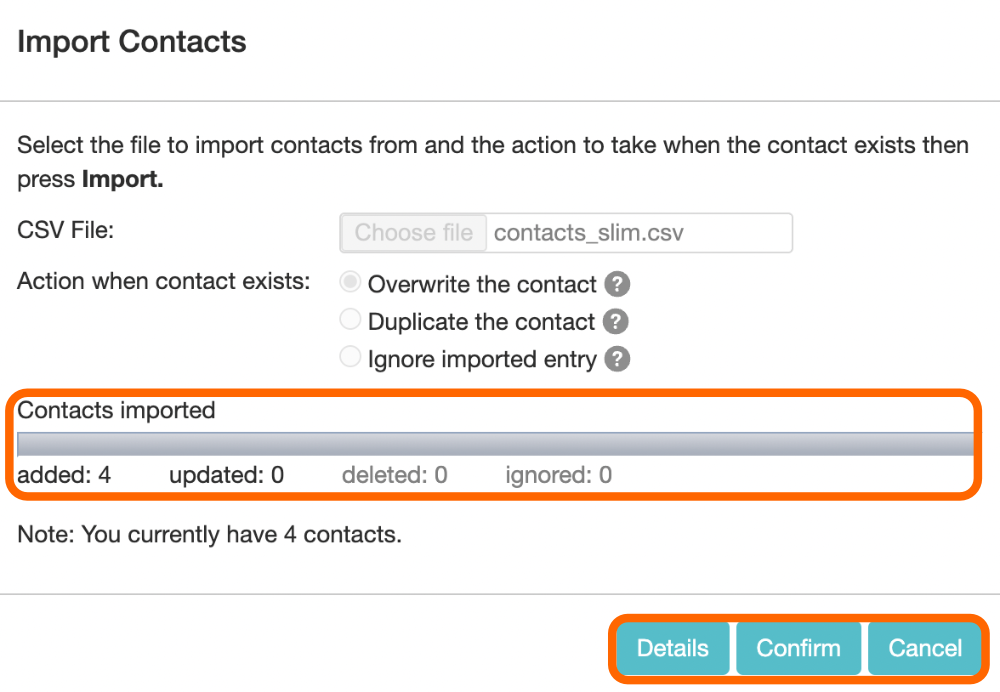 You will now see the Contacts imported. You can Edit or Delete contacts by selecting the relevant Contact and clicking on Edit or Delete

| | |
| --- | --- |
| | INFO: Depending on the source of the CSV file you have you may experience issues with Importing contacts correctly. You may see that only the names are display and not the phone numbers. Please use one os the provided templates below.   |
If you do experience issue using the your CSV then please download one of the following templates. There a 2 versions of this full and minimal. In most cases the minimal version will do as this includes First Name, Last Name, Home Tel, Work Tel, Cell Tel and Fax Tel. The full version includes full address and other contact details. 
Click on either of the below to download:
You can either edit the header row (line 1 of CSV) to match the below. Excel is ideal for this. 
| | | | | | |
| --- | --- | --- | --- | --- | --- |
| First Name | Last Name | Home Tel | Work Tel | Cell Tel | Fax Tel |
Or you can just copy the relevant columns into the the template as per the below: 

Once you have finished making the changes save the file as a CSV and follow the above instructions to import.
| | |
| --- | --- |
| | INFO: First Name and Last Name columns are limited to 32 characters each  |
Exporting Contacts
Within the Contacts page click on Export All.

Next select the format that you would like the Contacts to be exported. 
Outlook/Outlook Express compatible - Select this option to import them into Outlook
Windows Contacts on Vista - This was only for Windows Vista contacts. Should not be used unless you are still using Windows Vista.
Native format - Select this one to have the contacts exported as a CSV file. 
Once selected, click on Export. The file will automatically be downloaded.