Host or Participate in a Meeting
Join a Meeting
You can join a Pod Meeting by clicking on the on-screen invitation or by opening the Meeting URL in a browser.

Explore the Meeting Window
While a meeting is in progress, you will either see the participant toolbar or the host toolbar at the bottom of the Meeting window.

Set Up Your Audio
Use the Microphone icon to toggle your microphone on

and off.
Click on
to change your audio options.
- Select Join Audio to allow Pod to use either your phone or your computer's microphone and speaker
- Select Leave Audio to prevent Pod from using your speaker and audio device.
Use the Video icon

to toggle your video on and off.


Access the Settings Menu
Click on
to access the Settings menu, where you can set up and test your microphone, speakers, and video. You can also use the Settings menu to specify where to save recorded meetings and to access additional application settings.


Invite Contacts to Join You in the Meeting
Click on

and select the contacts you want to invite to join you in the meeting. The contacts you select are then sent a meeting invitation.


View Meeting Participants
Click on

to see who has joined the meeting. You can access the following options from the Participant window.
-

- let the meeting host know that you have something to say
-

- change your display name


If you are the meeting host, click on Manage Participants to access the Participants window.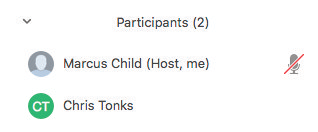 Meeting hosts can use the following additional options to manage participants:
-

or

or Mute to mute a specific individual.
-

to prevent meeting attendees from sharing their screen.
-

to access additional options, including:
Mute on Entry - mute all attendees as they join the meeting
Play Enter/Exit Chime when a participant joins or leaves the meeting
Lock/Unlock Meeting - no new attendees can join if the meeting is locked
The following icons provide additional information about each attendee.

  The participant is currently speaking.

The participant's microphone is on.

The participant's microphone is muted.

The participant's video camera is on.

The participant's video camera is off.

The participant has raised their hand.