Presence & Call Manager
Presence
Let others know whether you are available or busy by setting your presence to Online or Busy.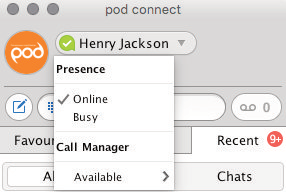 Your Presence information automatically shows when you are Away, On the Phone, or In a Meeting (this references the information in your Outlook calendar).

Call Manager
You can tell Podr how to handle your incoming calls. Click on the Presence selector, expand the Available option and choose between:




If Do Not Disturb is selected, callers hear a recorded voice announcement saying that you are unavailable and are then connected to your voicemail. None of your devices will ring until you turn off Do Not Disturb, so be sure to use it carefully!
You can select Forwarding to forward all incoming calls to another number. You are then prompted to enter the number you want to forward calls to.
Note that when you change your Presence or Call Manager settings, the change applies on all of your Pod devices. So if you step away from your computer and forget to update your status, you can change your status using the Pod app on your mobile phone instead.


Choosing Which Calls to Receive
You can specify how calls should be handled if they are from anonymous numbers, from VIPs, or from numbers on your Unwanted Callers list.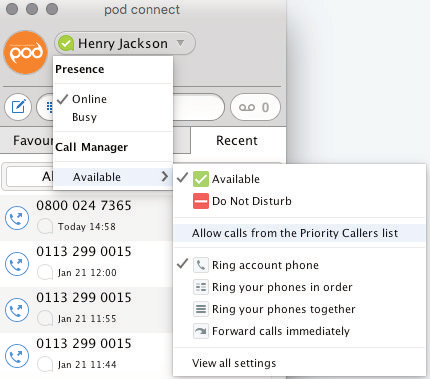 To do this, click on the Presence selector, expand the Available option, and select the View all settings option at the end of the menu.
This opens the Call Manager Status window, where you can set your call handling preferences.